The Cash-Only Envelope System for Saving Money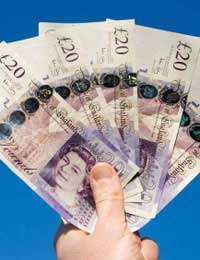 Whether you're looking at saving some serious money or just want to get your finances in order and track where all your cash goes, the cash-only envelope system could help you.
The cash-only envelope system for saving money is quite self-explanatory. Basically, you use cash, rather than debit or credit cards, for all your spending. You could take a set amount of money out at the start of the period and spend this as you wish over the week/month. Another option is to divide the cash you take out up between different areas, for example food, entertainment, clothes etc. Whichever system for saving you use, one thing is the same – once the money is gone it is gone.
Some hardcore money-saving enthusiasts use cash for everything. However, for most people this isn't a realistic way of managing all their finances. It's possible, and probably advisable, to still use direct debits or similar for payments such as rent, mortgage and utilities. However, for cash you'd normally spend using cards or cash from yet another trip to the cash machine, try the cash-only envelope system.
The Benefits of the Cash-Only Envelope System for Saving Money
Using a cash-only system for managing your finances will force you to prioritise your spending, rather than buying whatever you want when you want.
Spending money instead of swiping a card will make you think carefully about every single purchase.
Handing money over for all the things that you buy will give you a clearer idea of where your money goes each month.
How to Make the Cash-Only Envelope System for Saving Money Work
To get the most out of the cash-only envelope system, you'll need to budget. In fact, many take up the cash-only envelope system in order to force themselves to stick to their budget.
More information on budgeting is available in another LowBudgetLiving article 'How to create a budget'. Once you've made a budget, detailing your income, outgoings and what's left, you'll have a pretty clear picture of the areas where you need or would like to save some money.
So, using your budget, come up with a figure that you can comfortably spend every week or month. Preferably this shouldn't be the whole amount of money you have left – ideally at least a small amount should go to savings.
If you are going to divide the cash between different envelopes, consider the following categories:
Food
Household products
Clothing
Entertainment
Gifts
Eating out
'Mad money' – meaning you can spend it on whatever you want, whether that's sweets, a bet on the horses, the cinema, overpriced magazines or a treat coffee.
To make the cash-only envelope system work effectively, you may find you need to do a bit of shuffling money between envelopes in the first few weeks. If you find you have money left over in certain categories you could leave it in the envelope to add on to the next month, enabling you to have a treat, for example a slap-up meal or some fancy shoes. Alternatively you could put less money in that envelope category the next month and allocate it somewhere else where you feel a little extra would help. On the other hand, if you are feeling very virtuous you could just allocate a lower amount next month and add the extra to savings.
You might also like...