Clearing Credit Card Debt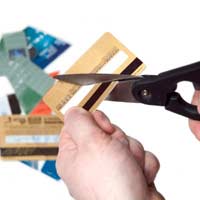 Credit cards are a convenient way of paying for goods and managing money for many users. However, without due care, credit cards can lead to significant debt problems.
According to a 2007 survey by Uswitch, the average credit card holder now owes almost £2,000. Further, 10% of credit card holders only pay the minimum balance of their credit card debt off each month, resulting in the debt growing through interest being added on.
Uswitch estimated that for 3.5 million credit card holders it will take up to 30 years to clear their debt. Let's look at some of the different approaches to clearing credit card debt.
Budgeting
For better or for worse, one thing's for sure – credit card debt can't usually be cleared without examining your finances closely and tightening your belt.
There are a few ways to clear debt, such as:
Snowballing
Debt management plans
Using savings
Consolidation
However you clear the credit card debt, you'll usually need to budget to do so. Budgeting while paying off a credit card debt also means you'll be less likely to rack up another credit card debt once one has been cleared.
Snowballing
Those who clear credit card debt the good old-fashioned way – by making cutbacks and throwing all their spare cash at the problem – usually use the snowballing method. Snowballing is both a motivating and cost-efficient way to pay off credit card debt.
What snowballing means is simply paying off the debts one by one – concentrating on one then moving onto the next, rather than paying bits off here and there. There are a few ways you can line up the debts to be paid off, for example:
Smallest debt first
Largest debt first
In order of debts with the highest APR
Then just throw all spare money at the debt, before moving onto the next when it's clear.
Debt management plans
For those who are struggling to pay credit card debt off on the income they currently have, a debt management plan could be the answer. Debt management plans are administered by specialist debt management companies. These organisations examine a client's finances and debts and then come to an agreement with their creditors about how much their client can afford to pay back and over what period. They can often negotiate a lower interest rate or a drop in the final figure to be paid back.
Debt managements should be considered carefully and any organisations offering these services should be researched thoroughly before any contracts are signed.
Using savings to clear credit card debt
Sometimes people in credit card debt are conflicted about whether to use savings to pay off debt. For others this is a no-brainer. However, those reluctant to pay off debt using savings are afraid of losing a security cushion.
There are a few issues to consider. For example, those who are self-employed are advised to think carefully before relinquishing all savings to pay off debt in case there is a quiet work period or payments are late.
On the other hand, although savings are always ideal, you will be paying far more in interest on credit card debt than you are gaining in savings.
The compromise is probably to have some finances set aside for an absolute emergency and throw the rest at credit card debt, before building up savings again.
Consolidation
One option for those who find credit card repayments too high each month is to take out a personal consolidation loan. This means taking out one loan to clear all debts and then paying it back at an affordable rate each month.
Consolidation loans can help many people get their finances in order again. However, for a consolidation loan to be effective the borrower needs to ensure they have addressed the behaviour which got them into debt in the first place so that the cycle doesn't continue. It's also important to consider the fact that the debt will probably take longer to pay off with a consolidation loan because in order for the repayments to be smaller, the repayment period for the debt is increased.
You might also like...