Common Ways we Waste Money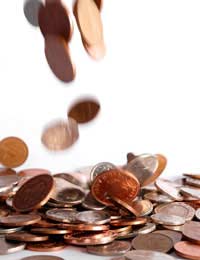 People often end up saying of their money "I don't know where it all goes". The fact is without a budget or a sound method of money management it's all too easy to waste money without really knowing where all the money is going. Once you're aware of the money-wasting pitfalls and how to avoid them, you'll no doubt find that you end up saving quite a bit of money.
In this article we'll look at some of the most common ways that we waste money and some strategies to avoid wasting and start saving.
Paying fines
If you're not organised it's easy to end up wasting significant amounts of money on paying unnecessary late fees and fines. One of the keys to not wasting too much money is good time management.
For example, many people often get fined for small things such as returning rented DVDs back late to the shop or not getting back to their car in time before the slot they have paid for is up. There are a few options. Getting a diary and keeping it up-to-date is helpful to many. It's also well worth making use of electronic reminders such as Outlook alerts and mobile phone alarms.
Bank and credit card charges are a serious problem for some people and can soon add up to wasting literally hundreds of pounds. The best way to avoid these charges is to set up payments by direct debit so that the money gets automatically taken from your account before the due date.
Forgetting to cancel
Another area where organisation and time management pay dividends is when it comes to keeping on top of money that is leaving your account. Common subscriptions that people forget to cancel include:
Free trials – To an extent companies play on the fact that people forget to cancel subscriptions. They offer free trials but you still have to include credit card details. You forget to cancel and payment is automatically taken. Take advantage of free trials by all means but always set yourself a reminder to cancel the free trial before payment is due.
Gym membership – How many of us sign up with good intentions for things and just never follow through? To stop wasting money have a policy of 'if you don't use it, lose it.'
Non-essential subscriptions – If finances are tight and you have to be brutal, outgoings such as charity donations may have to stop, at least temporarily. If you need to drastically reduce your budget, scour bank statements for all non-essential outgoings and cancel them until your finances are in better shape. You might have to sacrifice the sky TV for a while to get your finances in order but it's often worth it for the peace of mind.
More ways to stop wasting money
Avoid impulse buys. When it comes to grocery shopping, Christmas present buying and clothes, always have a list. Whether it's a weekly food shopping list or an ongoing list to tick off gradually it will help you avoid buying ill-thought-out items and things you don't need.
Choose quality over quantity. Buying cheap items, such as shoes, clothes and electronics can sometimes be a false economy. There are many cheap shops on the high street now, but consider whether you would actually get more wear out of a more expensive quality item, rather than a dirt cheap item that needs replacing regularly.
Don't ignore freebies.Take advantage of discounts and free offers wherever you can. Coupons, loyalty cards, cashback credit cards and employer pension contributions are all worth looking into, but many people don't bother because it seems like a hassle. Think again - as long as you are shrewd and can see past the hype in some cases, you could make large savings. Also, make sure you are claiming any benefits and other financial help you're entitled to.
You might also like...