Working from Home to Save or Earn Money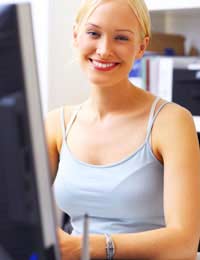 To a large extent, the advent of the Internet has revolutionised the way many of us work. Shopping, communication, banking and even social networking has been revolutionised, adapting and expanding to fit in more flexibly with 21st century living. We are now able to instantly communicate in a variety of media across countries, continents and the world as a whole. It is largely thanks to the growth of the Internet that remote working, or teleworking, has grown in popularity with many people able to spend more time working from home.
Benefits
Remote working has many so benefits, not least because it allows people to live more flexibly around their personal circumstances. For those who regularly travel to meetings and use their office just as a base, remote working cuts out any unnecessary travel, saving both commuting costs and time. People who are keen to raise their families will find that remote working gives them a chance to stay employed, earn some extra income as well as spend precious time with their children and partner.
So how viable is working from home? Is it really an option for everyone? Well, obviously remote working is better suited to some industries more so than others. For instance, many computer programmers, writers and journalists, web entrepreneurs and people running e-commerce businesses will find it relatively easy to work from home. Basically, the more web-focused your job, the more likely you'll be able to make working from home work for you.
And it's not just freelancers that work from home. Some forward-thinking companies are keen to allow their employees to put in flexi-time or an element of home working as part of their contracted hours. If you currently work in a job that you feel could incorporate some element of home working, why not speak to your line manager?
Working from Home to Earn Money
As aforementioned, you may already be in a profession that can easily accommodate teleworking. However, there are many people that may be looking for work, such as those that have taken time off to raise a family and are now actively seeking employment. Working from home is a great way to earn a little extra household income. And for those that really find their niche, a small 'cottage industry' can grow into a really successful and thriving business.
Finding the right home working solution depends on a number of factors. Firstly, for web-based business and work you'll need fairly good IT skills. On the most basic level this includes being able to use the Internet to research and send emails. Secondly, the skills you already have will obviously affect the area of work that you can do from home. Remember that if you want to expand your skills, there are many distance learning courses that can also be undertaken remotely.
Some Ideas
If you're an adept crafter or artist, or fancy setting up your own 'e-commerce' store, there's always the opportunity to showcase and sell your wares on the Internet. If you want to save yourself money and reduce the hassle of employing someone else to do the work for you, there's always the option of signing up to specialised websites such as Etsy and eBay to kickstart your small business venture. This requires a few additional IT skills, such as being able to download pictures onto the Internet. Go a step further and you could create your own bespoke website, using front-end website building software such as Dreamweaver or FrontPage.
Remember this type of venture will also require good communication and organisational skills, a head for numbers and basic accounting skills. You may have to inform your council if you're setting up a business from home, as it could affect the council tax rates that you pay. You will also have to inform Revenue & Customs if you start to earn over the tax threshold.
Working from home doesn't necessarily have to entail working for yourself. You could work as part of an agency or group that outsources work to remote workers. This kind of work can involve anything from product testing and reviews to copywriting, affiliate marketing and sales. You should, however, consider that jobs that entail work such as 'stuffing envelopes' will most likely pay a pittance. Be very careful and selective about the work you choose to take on, and never give out bank details or any other personal information when applying for a web-based job.
Working from Home to Save Money
Of course, working from home can save you the cost (and stress) of commuting. If you don't need to commute at all, this will also save you money on car insurance and any parking fees.
The overheads of working from a home office can also be low if you're energy efficient! In some cases you may be able to factor in the cost of electricity, outgoing calls and your Internet connection as part of your expenses, and recoup the costs. The key is be extremely organised and keep any bills, receipts and invoices that could be later filed as expenses incurred.
However, you should also be aware that you may have to inform your council if you're setting up a business from home, as it could affect the council tax rates that you pay. If self-employed, you will also have to inform Revenue & Customs if you start to earn over the tax threshold.
All in all, the benefits of working from home tend to outweigh the negative aspects. But if you want to succeed with remote working, hat you will need in abundance is organisation skills, motivation and discipline. Sometimes it can be lonely work, but it sure beats sitting in a traffic jam for hours on end!
You might also like...