Will a Water Metre Save You Money?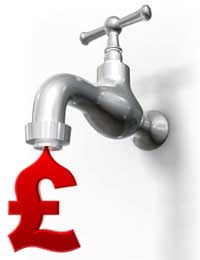 Having a water meter installed may be a great way to save you money, but it's not necessarily the best or most frugal move for everyone. This article will help you to decide whether a water meter will really save you money.
How Water Companies Calculate Their Bills
Regardless of the fact that the water market has been privatised in England and Wales, there is no competition between providers. So here, unlike the way in which you can switch between the best fuel providers with the best rates, you can't switch from the water company that bills your household. Therefore, the only feasible way that you might be able to save money on your water bill is to have a water meter installed.
But this may not be the best option for everyone. In Britain, around 60-70% of homes do not have water meters installed. For these households, water bills are calculated on an old-style system, where the price is fixed according to the 'rateable value' of the home. Some people view this system as irrelevant and outdated, as it doesn't actually take into account the amount of water used by the household.
Could a Water Meter Save Me Money?
The rate that is paid on unmetered water varies between regions, and in Scotland and Northern Ireland there is some competition in rate between providers. In England and Wales, the difference in price between metered and unmetered water bills averages out at around £50-60 per year.
Whether a water meter will save you money depends on a variety of factors, mainly how many people occupy your home, and your water usage (consider whether you have a dishwasher, a power shower, take lots of baths, have a sprinkler etc). Water meters bills are calculated based on water consumption. So generally, if your home has more bedrooms than people in it, you are probably likely to save money by switching to a water meter.
It's worth noting that in Scotland, having a water meter installed can be quite expensive, so unless you're planning on staying put in the long term, it's worth weighing up whether it's the most frugal solution. Water meter bills may also take into account sewerage charges, which can be calculated by assuming that 90-95% of water used by the household then becomes sewerage – unless you had have a soakaway installed. Always check sewerage charges, as you could make extra savings with a few small, eco-friendly adjustments to your water usage and sewerage.
Use a Water Usage Calculator
It's definitely a good idea to calculate how much water your household uses, and compare it to your unmetered bills. In some instances, it might be better to stay with your unmetered bills. You can estimate your water usage by using special water bill calculators online, or alternatively for a more accurate estimate, contact your water provider who will help you to calculate just how much you're using.
Switching to a Water Meter and Beyond
If you think that switching to having a water meter will save you money, you should bear in mind that you can save even more money by taking a few simple steps.
The most obvious step is to further reduce your water consumption – so less full baths, use grey way water to water your plants, or install more water butts outside, negating the need for costly water sprinklers or hosepipe use throughout the summer months. Secondly, there are a good number of eco-gadgets on the market to help you to reduce water consumption, including special pipe-fittings that will reduce the amount of water needed in a power shower. Toilets can also be fitted with 'eco-flushes' to reduce the amount of water needed to flush the toilet. Similarly, rainwater storage and diverters can be installed where non-drinking water can be substituted. The initial outlay costs may see you losing money, but gradually over a few years you will probably be able to recoup these costs, ultimately saving you a great deal on your water bills.
You might also like...