Ten Ways to Recycle in the Garden and Save Money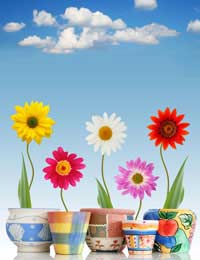 Need to improve your garden? Don't want to spend a penny more? Then take a look at our Low Budget Living guide to recycling in the garden and save money:
1. Container Gardening - Be Creative With Your Pots
You don't have to spend a fortune on a plethora of pots to plant your blooms in. Just think creatively – anything with sides and a bottom can become a plant container! Whether it's a colourful old oil drum, a row of painted tin cans, a disused sink, toilet, metal watering can, a disused wine crate (lined) or an old teapot.
Just make sure that whatever you choose either already has holes in the bottom, or can have holes drilled into it. Remember that before you plant, line the bottom of your chosen container with a layer of crocks or gravel before filling with soil.
2. Make Your Own Compost and Feed!
Pet bedding (but not cat litter!), kitchen vegetable scraps, weeds, grass clippings and leaves - all the makings of a successful compost heap, and a sure-fire way to feed your garden for free.
Stew nettles, comfrey or any other dark green-leaved in a bucket of water for around 6 weeks. Make sure to site well away from populated or oft-used areas, as the mixture will definitely start to pong after a while! Once ready, simply add to water a ratio of one parts stew to ten parts water, and use as a liquid feed.
3. Keep your old compost bags
If you've used commercially-produced compost, save the bags for later, as they have a multitude of uses. The plastic, if turned inside out, can be used as a liner for plant containers. The bags can be used time and time again as green waste bags, easy to bung in the car and to take to your local green waste recycling point.
Alternatively, used compost bags with a few punch holes can be used as leaf mould bags. Simply fill with leaves, make around six to ten holes on each side, give the leaves in the bag a good soak, roll the bag opening shut and leave for around 12 months in a cool or shady place. After 12 months, you should be left with some gorgeously dark and crumbly leafmould that can be used as a soil conditioner in your garden or vegetable plot.
4. Take Cuttings
Cuttings are one of the best ways to 'recycle' and make your money go further. If you or a friend has a favourite flower, shrub or fruit plant, the chances are you can take a cutting and propagate an almost endless supply of your chosen plant. Take a cutting from the 'heel', or soft part of the plant's stem.
Some plants need little more than finely textured soil, water and a bit of warmth to establish themselves from cuttings – lavender and rosemary are two such plants that need little assistance. Others may need a little help in the guise of root growth hormone, but again, once left to their own devices, only need the occasional feed and water.
5. Seed Saving
In addition to the above, seed saving is another fantastic way to keep an endless supply of your favourite fruits, veggies and blooms without opening your wallet. All you have to do is make sure that your collected seeds are stored in a dry, airtight place – and don't forget to label your seed envelope or container. The longer you keep seeds, the less likely they are to germinate, so try to sow within a year of collection.
6. Germination station
If you're intent on growing your own this year, you don't have to spend a fortune on fancy modular seed trays. The inside of a toilet roll is not only perfect as an individual root-trainer, but also composts quickly. Egg boxes are also fantastic as modular seed cells – simply fill with soil as is, or cut up into individual compartments. Whole egg trays, milk cartons and cardboard fruit punnets are also perfect for growing seeds and chitting potatoes.
7.Rubber Car Tyres
Stacked three or four high, and filled with soil, car tyres make for effective potato planters. OK - so they might not look particularly pretty, but you won't hear any complaints once you're tucking into a plateful of home-grown, home-made chips!
8. Labels
Forgotten what you planted, when, and where? Used wooden ice-lolly sticks are perfect as plant labels. Label in pencil and they can be used time and time again. To brighten up your labels, why not add a little paint for some colour?
9. Water Irrigation System
If you're going away for a few days, or just don't have time to water all your plants, then plastic bottles will do the trick. For longer-term water, simply prick a few holes in a plastic bottle and sink into the soil.
10. Water Bottle Cloches
You don't have to fork out a fortune on bell cloches for individual plants. Just take a large plastic drinks bottle, cut the bottom off, remove the lid and place over your chosen plant. You can water as much or as little as required, safe in the knowledge that your plant is free from the risk of frost (and potentially any small hungry mouths!). Likewise a row of disused CD jewel cases are make great makeshift mini polytunnel. Not pretty, but certainly functional.
You might also like...