Planning your Wedding on a Budget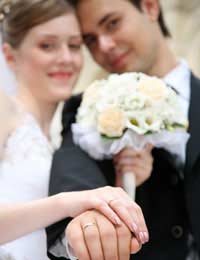 Once couples start planning their wedding, they often realise that the wedding industry is not a cheap one. Add to the cost of the wedding, the honeymoon and stag and hen celebrations and the bill starts to get very large. In fact, the average wedding in the UK now costs upwards of £15,000.
However, it is very possible to plan a beautiful wedding on a budget. We'll look at how.
Wedding dresses and outfits
Wedding dresses can cost thousands of pounds and if you're planning a wedding on a budget, a designer number costing this much is clearly beyond your price range. It's worth thinking about hiring a wedding dress as it will cost a fraction of the price.
Alternatively, if you know someone handy with a sewing machine, it could be possible to get one made. Second-hand dresses and vintage numbers are also often cheaper as well as being a greener option.
Catering
The food is another major cost area when you're planning a wedding. If you are on a very tight budget, consider ditching the big meal part of the wedding reception. Couples have been known to have an intimate meal with very close friends and family following the service and then later have an evening party for all the guests at night.
Buffet-style catering is also often much cheaper than a sit-down affair so it's worth considering when you're planning a wedding. If you know someone with a large house who'd be willing to accommodate you, you could consider rounding up a few friends, cooking the day before and having the reception there.
Timing
Get married at an off-peak time and you will save money on all sorts of wedding products and services. The peak season per se is the summer months, especially August. However, you can think beyond just this in terms of planning the timing of your wedding.
Think about getting married mid-week instead of on a Saturday. Weddings don't have to take place in the morning or early afternoon either. An evening wedding – say 5pm - will save you a significant amount of money on room hire and catering and can be very elegant.
Package deals
One way to save money when planning a budget wedding is to consider package deals, rather than researching every product and service individually. As well as saving you money, package deals can cut down on time as well as stress.
Package deals for weddings are offered by many hotels and venues. It means that they will organise most things for you and they will often throw in deals, discounts and freebies.
Honeymoons
The average honeymoon now costs around £4,500. If you're planning a wedding on a budget, it's likely you don't want to spend this much in total, let alone just on the honeymoon!
If you don't need a lot of things for the home, you could consider asking guests for money as a gift and use this towards the honeymoon. Some couples worry that it is a bit vulgar to ask for money, despite how common it now is. However, the reality is that it is pretty much accepted these days and a lot of guests will insist on giving some kind of gift anyway. State clearly and sincerely that there is no need to give anything at all, but if they would like to you are saving for a honeymoon.
Look into low cost flights and booking somewhere in Europe – it's usually cheaper than far flung destinations.
There are plenty of romantic getaways here in the UK too. A cottage in the lakes or a nice hotel in a picturesque part of Scotland would a be less stressful and more eco-friendly choice as well.
Finally, consider train travel and cruises, not just flights.
You might also like...