Ideas for fun and Cheap Nights in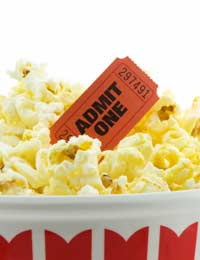 The cost of going out regularly can really blow your budget. Cinema, restaurants, pubs, taxis…the costs all add up. It's nice to go out sometimes. However, with a little creativity, it can be just as much fun to do something at home sometimes. Staying at home every now and then instead of going out will also save you a significant amount of money.
In this article we'll look at just a few ideas for a money-saving fun night at home. They should get the creative juices flowing for more ideas on fun, budget nights at home.
Movie Night at Home
Going to the cinema can be a real budget-buster. These days it usually costs upwards of £7 per person to see a film. It's hard enough on the budget if you just have to pay for yourself but if you have a family, it can just cost too much money to be affordable.
Try having a movie night at home. Rent a DVD from a local rental shop or online. To do it for free you could also rent one from a friend or from the local library. Make popcorn at home for a fraction of concession prices and dim the lights for an authentic cinema feel. All the family can enjoy a movie night at home for under a fiver.
Pot Luck Party
Fancy a fun night out with friends but can't afford restaurant and pub prices? Why not round up your pals and ask each person to bring one dish and a bottle. No-one has to spend much money and you'll all get a fun get-together, a good meal and few drinks for a fraction of what going out would have cost.
Games Night
Another fun idea for a night in with either friends or family is a games night. Whether it's a board game, computer games or a murder mystery party. Most people have a board game or two and someone you know is likely to have a games console they would agree to bring round for the night.
Put a few nibbles on and let the games commence!
Pamper Yourself at Home
If you're on a budget and trying to save money it's likely that a spa day is off the agenda. Why not get a few friends round and have a pamper session at home instead?
Get the face masks, nail polishes and make-up out and beautify away. A few glasses of fizzy wine should add a dash of decadence to the proceedings.
Candlelit Dinner on a Budget
If you are your loved one don't have the money to dine out, the alternative doesn't have to be egg and chips in front of the telly. Dining in could be just as romantic.
You could even make a day of it. Plan a delicious menu together, then go shopping for the ingredients. Cook the meal together and prettify the house and table to make it feel like a special occasion. Don't forget to make an effort by dressing up.
More Ideas for Budget Nights at Home
Here are a few more ideas for budget nights in that don't cost lots of money:
Casino royale night – you don't have to gamble for real money!
Clothes swapping – don't spend any money and get a new outfit to boot!
Cocktail night – each bring an ingredient and download some recipes online
TV night – make a regular event of watching a favourite TV show with friends. X factor, Strictly Come Dancing, Lost…whatever you're interested in. No talking over the programme!
You might also like...