How to Avoid Takeaways and Eating Out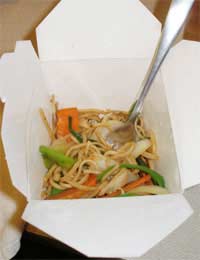 When you're tired, hungry and fancy a treat the lure of the local takeaway or restaurant can be strong. However, if you're watching your waistline or your bank balance, takeaways and eating out should remain just that – a treat. If you make a habit of eating out or ordering in, you'll be spending a lot more money on food than you need to. You probably won't feel too healthy either.
The Tiredness Factor: Speedy Meals
When you get in from a long day at work, sometimes you just want a meal on the table, without taking much time to cook. When you're hungry and tired the best way to avoid the temptation of a quick fix takeaway or meal out is to be prepared.
Make sure you have some speedy and tasty meal options in the house. Stir fries, soups and beans, cheese or egg on toast can all be ready in less than ten minutes. Sandwiches, wraps and omelettes are also a good stand-by to make sure you avoid dialling a greasy takeaway.
Have some home-made ready meals in the freezer to avoid grabbing quick junk food when time is tight. For example batch cook meals such as chilli, curry, lasagne and bolognese sauce and freeze in portions. Bung in a pan or the microwave when you get in and have a nutritious meal in a hurry without spending any money.
Although ready meals are not that budget friendly, they are cheaper and usually less fatty than ready meals and eating out. Look for lower fat and lower calorie versions for a healthier choice. Check out the reduced items at the supermarket too as money is often knocked off ready meals at the end of the day.
The Treat Factor: Enjoy a Luxurious Meal for Less Money
Sometimes a takeaway at home or an evening at a restaurant is about having a treat rather than merely the necessity of eating. Eating out or getting a takeaway can be a time to relax and spend time with friends and family without the hassle of cooking.
If you enjoy eating out but want to spend less money, think about learning to cook some of your favourite restaurant meals at home. Prepare and cook as a family or as a couple and you can still have an enjoyable time together as well as avoiding spending unnecessary money. Download recipes free online to save even more money.
Check out supermarket ready meal versions of takeaway foods. These ready meals are more expensive than cooking from scratch but they are cheaper than takeaways and restaurants. For example, many supermarkets now sell things such as a curry meal for two for £4.99, including curries, rice, naans and sides. This would cost three times as much for a takeaway and probably five times as much at a restaurant.
The mmm Factor: Making Delicious Takeaway-style Meals for Less
If it's the actual takeaway taste you miss, you can almost certainly make a version at home that is just as tasty and almost certainly less greasy. You'll avoid weight gain as well as save some extra cash.
Buy pizza bases and top them with items of your choice. This is great fun for kids too.
Indian and Chinese supermarkets often sell authentic ingredients at extremely cheap prices and experimenting in the kitchen can be great fun.
You might also like...