Smart Shopping: All About Food Co-ops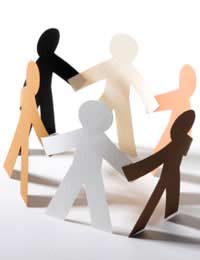 Food cooperatives, or 'co-ops', are where two or more (and often many more) people join forces to increase their buying power. This means that they are able to have more choice about where they buy their food from, often purchasing from wholesalers or directly from local farmers. It is difficult for individuals to buy from these kinds of sources, so when resources and budgets are pooled together, these direct sources of food become readily available.
This means that with planning and some voluntary time set aside, members of the food co-op have any savings passed onto them, purchasing their foods and products at much lower prices.
Who Runs a Food Co-op?
Food co-ops are usually run by communities, for use by their own community. They can be run on a non-profit basis, which means that in order for them to run efficiently, they require some voluntary workers. Obviously the more voluntary workers, the more benefit for the community as there is quite a lot of work involved in the day-to-day and committee activities of each co-op group.
How is a Food Co-op Run?
The way each individual food co-op in the country runs is entirely dependent on the committee members, the community itself (for example, an inner city food co-op may function in a completely different way to a dispersed rural communities food co-op) and the frequency that the food co-op opens its doors to its members. Some co-ops may be open on a daily basis, whereas others may only be open on certain weekends or once a month. A food co-op can be run from a variety of different locations, such as schools or community buildings, so this can be a deciding factor in when they are open to members.
The type of produce the food co-op sells may also differ too. For instance, some food co-ops many only sell dried goods such as pulses and pasta, whereas another food co-op could be geared more towards local or local organic produce. What is almost guaranteed is that the produce on sale will be significantly cheaper than if bought from supermarket shelves – perfect for people on a low budget. There is also much more control about deciding where the food comes from, so if you're particularly keen to buy only locally produced food, or organic food, then you may find that there's a food co-op near you that can help you to do this much more economically.
Smart Shopping
Food co-ops are a fantastic solution if you're aiming for a low food budget. If you choose to become a member of a smaller local food co-op, you may have to be a bit smarter about the way that you shop, as you might have to put in an advanced order. This is less common with larger food co-operatives.
This means that planning will be absolutely essential to your food shopping list. You may not have to buy in bulk necessarily, but you will need to know the length of time between your two food co-op 'shopping trips' so that you can adequately plan out how much of each item you'll need. If you opt for dried or tinned goods that can be stored, this is less of an issue. There is, however, little point in putting in a huge order for perishables such as fresh fruit and vegetables, unless you're planning on feeding your local community singlehandedly! So with just a little planning and forethought, by becoming a member of a food co-operative you can not only have a say in where your food comes from, but save money too.
You might also like...