Food Budgeting Explained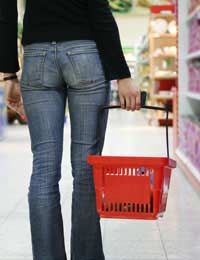 When you're really trying to save money, you will need to examine all areas of your budget. Working out a realistic food budget within your overall budget is particularly important. This is because it is one of the areas where it is very easy to overspend, but also an area where it's possible to make sizeable savings on your monthly spend.
Creating a Food Budget
Firstly you will need an overall budget, which details your monthly income and outgoings. More detail on this is available in another Lowbudgetliving article 'How to Create a Budget'.
You could do a trial run for a month of what your average shopping costs are. Keep receipts to track your spending and keep a record of the type of items that you regularly buy.
Make an effort to buy the most economical items each week, whilst making sure you buy enough food to cover all meals that are to be included in the food budget. For example, eating out may well come under the entertainment budget.
You will soon get an average figure of what you need to spend each month to buy the food you need. If this fits within your overall budget, it is a good starting point. Having an actual figure in mind for your food budget will prevent your bill creeping up, through extra treats and impulse buys.
If your average spend doesn't fit in with your overall budget – i.e your monthly outgoings are above your income, you'll need to find a way to reduce spending further or make a saving somewhere else in your budget.
What is a Realistic Food Budget?
What you should be spending on food every month depends on a variety of factors, such as:
How many people you live with
Special dietary requirements
Availability of food, for example which supermarket you live near and the shops in your area
Preferences
What you include in your food budget, for example supermarket shopping or meals out and toiletries as well
However, a very general guidance amount can be helpful to get you started and make you think about whether you could be saving more.
It's possible for a single person to get by on a food budget as low as £10 per week, purely for food. However, this is about as low as you can realistically go, short of eating extremely unhealthily. Somewhere nearer £25 is probably more realistic.
For a couple between £35 and £50 per week is probably realistic – with £50 being a fairly extravagant week.
For a family of four, £40 to £70 per week is a rough guide.
These figures are for budget-conscious food shoppers. Obviously the sky's the limit for what you could spend if you wanted to! The exact amounts will depend on your own resources and requirements.
Reducing your Food Budget
Once you have a food budget amount in place, you could set yourself challenges to get it lower each week or month, shaving a couple of pounds off each time.
Hardcore savers might want to keep a spreadsheet or other recording of food shopping bills to monitor the food budget and adjust as necessary.
Many serious savers also monitor prices of foods in different shops so that they can make the most of any discounts, special offers and bargains – even if it means visiting more than one shop.
You might also like...