School lunches vs. Packed Lunch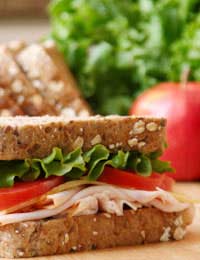 There are lots of issues that come into play when deciding whether your child should have school lunches or packed lunches. The main factors are how much money you can afford to spend, healthy eating, how much time you have and your child's dietary preferences and requirements.
The truth is that your child can eat healthily whether they have a school lunch or a packed lunch. Packed lunches are on the whole a cheaper option but don't forget your child may be entitled to free school lunches, thus saving you a significant amount of money.
Cost and Nutrition
The average cost of a school meal for a primary school child is £1.63 and for a secondary school child its £1.78. Clearly, you could make significant money savings by preparing an adequate packed lunch for your child each day. However, it's also important to note that research has shown that the average packed lunch is not as healthy as a school lunch.
School lunches now have to adhere to certain standards to make sure that they are a healthy option for children. These standards mean that school lunches must be built around high quality meat and fish, and potatoes and cereals. Each meal must include at least two portions of fruit and vegetables. There are also controls on the provision of fried foods and fizzy drinks, crisps and chocolate.
If you are looking to be money-saving by providing your child with a packed lunch, these are also good guidelines to follow to ensure their meals are healthy.
Financial Help for School Lunches
It may be the case that your child is entitled to free school lunches. If you claim any of the following benefits you could be eligible:
Income support
Jobseeker's allowance
Child Tax Credit (if your annual income is below £15,575)
The Guarantee part of State Pension Credit
Support under Part VI of the Immigration and Asylum Act 1999
Healthy and Economical Packed Lunch Ideas
If your child is a fussy eater, has special dietary requirements or you want to know exactly what they are eating, packed school lunches could be the best idea. Here are some ideas for cheap, nutritious lunches.
Sandwiches are the obvious choice but that doesn't mean your child has to endure a soggy cheese sandwich every day of the week. Experiment with different breads and fillings. Try pittas, ciabatta, wraps and french bread as an alternative to sliced bread. Think about fillings such as hummus, cold leftover meat and guacamole to keep things interesting. Ask your child what they would like in their sandwiches to keep them involved.
Try pasta, rice or cous cous salads as an alternative to sandwiches. Tuna pasta with chopped vegetables and some light mayo or vinaigrette dressing is delicious and filling.
Pasties, pies, samosas, pizza and quiches also make a refreshing change. Shop-bought versions can be very fatty and salty though. Try making your own healthy versions with less oil and wholemeal flour.
Hard-boiled eggs make a good high protein snack.
Storing your Child's Lunch
Ask at the school if your child's lunch can be refrigerated. If not, invest in a cool pack to keep their lunch fresh and safe to eat until lunch time.
You might also like...