Making Money from your Hobby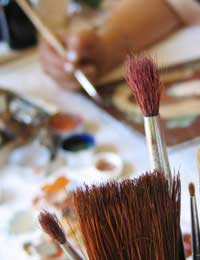 If you're looking to make some extra money, or a full-time wage, one of the most enjoyable ways can be through a hobby. A hobby is something people enjoy and are usually talented at, so making money from a hobby is an added bonus.
How to Turn Your Hobby into Cash
There really is no limit to the amount of ways that you could make money through a hobby and grow your savings or your salary.
Here are just a few ideas to get your creative juices flowing:
Knit or sew on demand or sell at local craft fairs
Teach sport such as tennis or football to youngsters
Write articles for the web
Sell paintings and illustrations to art lovers
Tutor students in a foreign language or an area of interest
Fix computers
Take wedding photographs
Which Comes First?
Although many hobbies can be used as a way to make money, it doesn't necessarily follow that you can just take up any hobby and make some cash. It's usually the case that people develop a talent because it involves doing something that they enjoy. Therefore, don't choose a hobby purely on its money-making potential. Do something you love and extra income is a bonus.
Don't Make your Hobby a Chore
If using your hobby as a money-making venture takes the joy out of what you once enjoyed you may as well give up. If you're no longer enjoying your hobby you are likely to lose your creativity and spark anyway.
Keep things fresh. At the same time as making money from your hobby, ensure that you keep on developing and learning.
Cash on the Side or a Business?
It is not hard to make some extra money from many types of hobby. Many people find that there is a demand for the skills they have developed through their hobby. However, it's important to realise that there is a huge difference between making some extra spending and savings money through a beloved hobby and turning it into your main source of income.
Running a business means managing cash flow, possibly managing staff, generating a constant business flow and more. Consider seriously whether your hobby is in fact a viable business idea and whether you would enjoy doing it full-time anyway.
Turning a money-making hobby into a business can be, for many, the thing that takes the joy out of their hobby.
At the same time many people do indeed make the leap and turn their hobby into a full-time job. The main point to remember is that the decision can't be underestimated or made lightly.
A Win-win Situation
One of the main benefits of making some money from a hobby is that the earnings can help fund the hobby itself. Some hobbies are expensive, for example tinkering with cars, photography and golf. Many hobbies involve buying equipment and travelling. The extra money from a hobby can offset these costs and ensure that the cash needed for the hobby does not eat into savings and day-to-day money.
You might also like...