Saving Money With Discount Vouchers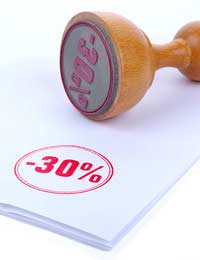 Using coupons and vouchers can really bring your shopping bill down. However, it's important to use them wisely – otherwise they could be a false economy.
There's loads of places you can get coupons and in this article we will look at where you can look for them and tips about how to get the best discounts on all sorts of products.
Types of vouchers and discounts
Discounts and vouchers are available on a range of goods and products including:
Meals out
Supermarket products
Clothing
Holidays
Days at theme parks
Discounts can be in the form of a few pounds or pence off, buy one get one free offers, free trial products and other promotions.
Where to look for discount coupons and vouchers
Newspapers and magazines regularly run promotional voucher offers, often in conjunction with major brands. The deal is usually that you buy the paper for a day or a week and you collect tokens. If you're not dedicated to a particular newspaper then you won't mind reading where the vouchers are while you get your news fix. However, even the staunchest devotees to a particular paper should do their maths because it could be that buying the extra paper could work out cheaper anyway.
There are now various sites that are dedicated to promoting vouchers, coupons and discount codes. Many of them have new offers up everyday. A lot of these sites also have regular newsletters so all you have to do is sign up and wait for the offers to drop in your inbox.
Often if you spend a certain amount in a certain shop or in a certain range you'll receive a voucher with money off your next spend in that store.
Using discount vouchers and coupons wisely
Using discount vouchers and coupons without thought and planning could feasibly end up costing you money! Although coupons and vouchers are a great way to save money, it's essential to make sure they're working for you.Here are some tips on making the most of discount coupons and vouchers:
Seasoned coupon and voucher users will know that they stack up and that if they're not organised they'll get lost and won't be able to be used.
The way you organise your coupons depends upon your own preferences but ideas include by shop, by product type, in a plastic file, as a running list….Whatever works for you!
Generally speaking, you should use vouchers and coupons around your shopping list, that is to buy products that you would buy anyway. There is obviously no point in getting some heavily discounted goods that you don't really need as you are spending money that you wouldn't have spent anyway, therefore losing money.
It can occasionally be worth buying a product that you will use in the future if it will keep well, but beware of false economies and falling into the trap of overspending on 'bargains'.
Bulk buying when you find a great deal or discount on a product you need or regularly use can be a great money-saver. Just make sure you have room for all your bargains! (and of course that they will keep without spoiling).
You might also like...