Customise your Old Clothes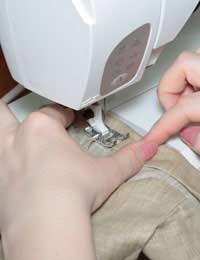 In the current credit crunch climate many people are having to cut back on luxuries. One such luxury might be new clothes – clothes that you want rather than need. However, it's possible to remain fashionable and with your own unique style without going shopping, or at least by shopping smart. By avoiding the high street for a while you could make a large saving and be creative at the same time.
We'll look at some creative ways to make savings on clothes shopping.
Customise your clothing
There are many types of item worth customising. If you saw Gok Wan's recent Fashion Fix TV programme you'll know he created outfits to rival designer looks.
Before you replace something think about if there's any way you can do it up, modernise it or otherwise revamp it. You'd be surprised at what you can do with a plain boring old T-shirt. Experiment with fabric paints, buttons, ribbon and lace etc. There is quite a fashion these days for DIY chic so you could even try selling some of your creations.
Here are just a few ideas:
Add handmade fabric flowers to dresses, coats and cardigans
Add ribbon lace-up detail to an old T-shirt
Add bright ribbon straps to a strapless dress
Add a statement fabric ruffle to a fitted skirt
Customise a man's shirt so it's fitted (by adding darts) and add embroidery and a belt
Serious style: Learn to sew
Even if you just know the basics being able to sew can save you a lot of money and help you customise more creatively. With even the most basic sewing skills you'll be able to add darts and button holes, put in zips, alter the sizing to fit, embroider and more.
With a bit more sewing experience you'll be able to make your own clothes and re-use vintage and second-hand materials to make new garments. You can use all sorts of fabric such as curtains, sheets, table cloths and fancy scarves. Ask around and look in charity shops and online.
Clothes swapping
Clothes swapping parties are just that - you give away the clothes that you don't want, and you come away with some new clothes (which are clothes that someone else doesn't want). The phenomenon originated in America, where clothes swapping parties are also sometimes called 'naked lady parties (don't worry there's no nudity involved!), but they are growing in popularity in the UK as well. Clothes swapping is also sometimes called 'swishing'.
You can have a clothes swapping party at your house, invite your friends, put on some snacks and drinks and make a night of it if you like. Alternatively many people organise clothes swapping parties in pubs, bars and other venues these days. You can charge a small entry fee to cover the room hire.
Charity shopping
If you really must have that retail fix, and we all need it from time to time, try looking in charity shops to find fashion and style on a budget.
Charity shops are great for both classic items and high fashion pieces with a short shelf life. Don't be fooled into thinking charity shops are full of granny outfits. These days you'll find many have loads of good quality items and on-trend looks, especially in cities.
Many charity shops also have retro sections where you can find trendy vintage items for a snip.
You might also like...